3 Methods for Community Parking Lot Improvement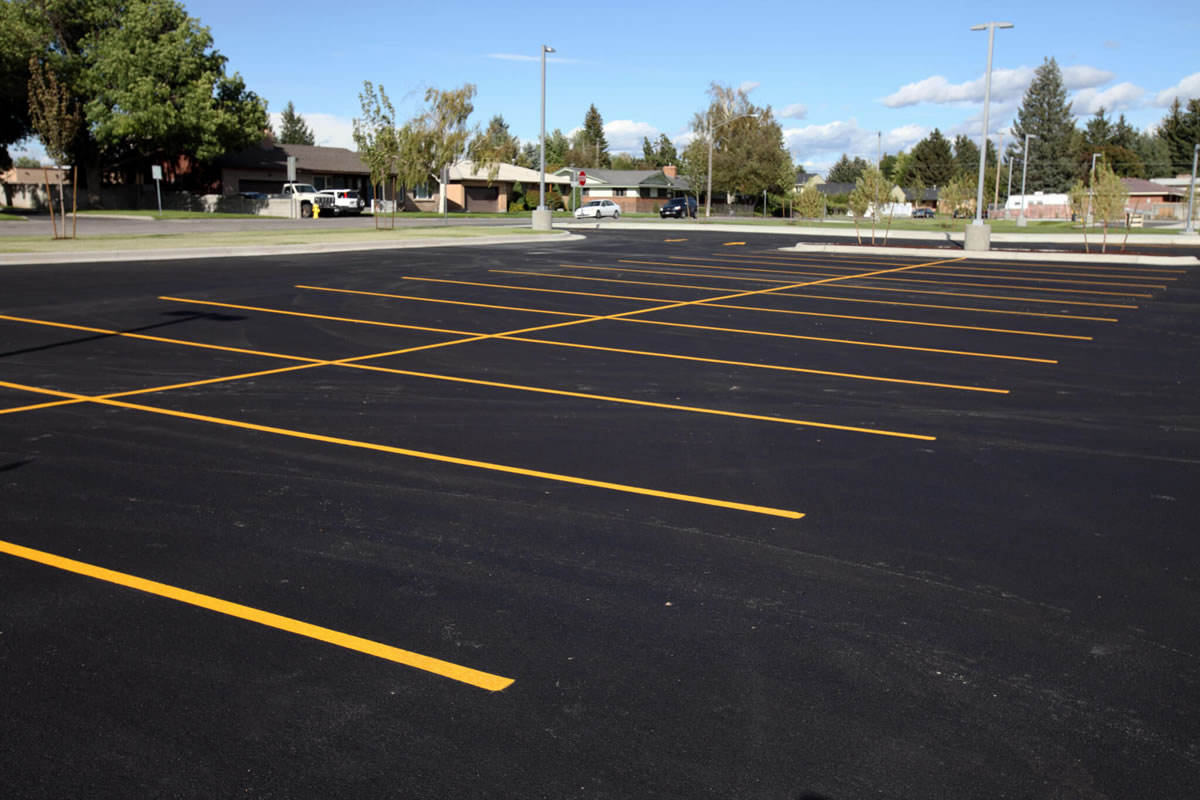 Keeping your professional parking area cleaned and maintained is essential to ensure customer satisfaction and retain a positive community image. Parking lots can become worn and damaged over time due to lack of maintenance and lose the beautiful black sheen they had when they were initially installed. Parking lot damage is impossible to avoid altogether. Weather conditions and time will lead to your existing pavement beginning to wear away. However, you can prevent the damages from happening in a shorter time than expected. It is important not to wait until you need a complete parking lot renovation. Instead, save yourself money by maintaining your parking area regularly.
There are a few paving solutions that can keep your parking lot looking and functioning as well as possible without replacing the entire asphalt structure. These practices will give your community parking area a new look while keeping it compliant with local and state regulations. Our experts on asphalt repairs in Orlando offer these three methods for improving your community parking lot.
Sealcoating
Sealcoating is a protective layer of asphalt emulsion applied onto your existing asphalt surface to extend your pavement's longevity and protection. This asphalt paving maintenance service also provides your pavement with a beautiful ebony finish similar to when it was first installed and protects you from the untimely cost of a complete renovation of your asphalt structure. In addition, Sealcoating is designed to boost the durability and appeal of your pavement with a protective coating that helps it resist harsh temperatures and other dangerous elements in the future. Experts recommend sealcoating your parking area within a year of initial installation and every two to three years for best results.
Asphalt overlays
Adding an asphalt overlay is another easy way to restore your parking area to a like-new look and keep it functioning as expected. The process requires applying an asphalt layer between one to three inches thick over the existing pavement. It is a cost-effective and eco-friendly way to restore your pavement without gutting the asphalt structure completely. It is essential to take care of needed repairs before applying asphalt overlay, including repairing cracks, potholes, and other damages. Once repairs are made, and the foundation is solid, you're asphalt professional can easily install your asphalt overlay to make your asphalt look and function like new again.
Striping
Parking lot striping is critical for maintaining a smooth flow of traffic through your parking area, staying in compliance with ADA standards, and keeping it looking new. Striping's traffic control elements help prevent unnecessary hazards by efficiently and effectively directing your parking lot traffic. Unfortunately, pavement markings wear down and become difficult to read over time, and if you have sealcoating or asphalt overlay applied, it will need to be redone. Our experts on asphalt repairs in Orlando will guide you through the planning and organization process to ensure the most effective, efficient, and legally compliant parking lot striping possible.
These three methods are designed to restore and enhance the function and appearance of your community parking area. Contact us today for your free quote, and let us show you how we can make your pavement better.